How to change wordpress theme name – Rename theme folder and hide it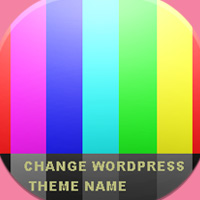 Do you know that people can easily find out what wordpress theme you are using in your site? Just right click your website and view page source; you will see your theme name like this (yoursitename.com/wp-content/themes/your theme name). Do you wish not to show your theme details to public? Then simply change your wordpress theme name.
It's true that most of the wordpress sites are not developed from scratch. Every site will have a theme as a base and from that they use to get the desired look and feel. How many times you have landed in a website and desired to know the theme name due to its elegant look and feel. Most of the designers and developers will hide or change their original theme name because they don't want anybody to know what theme and where the theme came from etc.
There are many possible occasions where you will need to change your default wordpress theme name. For example we have seen most folks install a new wordpress theme in their site and start customizing it by editing all the original theme files and CSS. So when the original theme gets updated they will simply lose all the changes and awesome modification that they made in their site. To avoid such cases it is recommended that you create a child theme and other way that you can prevent this is by completely changing the theme name.
When you create a new unique design by using a theme and when the look is outstanding we suggest you to change your theme name. That is you take the whole design credit instead of giving it to the theme author. Also this can greatly prevent others from cloning your website. Here we will show you how to change wordpress theme name in simple easy steps.
How to change wordpress theme name
Giving your theme a unique name or changing or renaming your existing theme name is fairly simple. The process just involves two steps that is changing your theme folder name and changing few lines in theme CSS.
Step 1: Locate the theme and rename it
Here we will walk-through using "twentythirteen" wordpress theme.
First locate your theme folder using FTP or cPanel. You can find your theme folder in your wordpress directory that is public_html/wp-content/themes.
Now right click the theme name and copy it to the same location by renaming it to your desired name (see the screenshot below).
If you haven't yet installed your wordpress theme then just unzip it, rename it from your pc itself.
Note: Make sure that when renaming your theme use only lower case letters and do not use special characters or spaces.
You have changed your wordpress theme name and next you have to change few lines in your theme CSS file which wordpress use to recognize the name and other details of your theme.
Step 2: Changing theme name in CSS
Just open your theme folder that you renamed just now and you will see a file named style.css.
Right click the CSS file, click on edit and at the very first you will see several piece of lines like this.

/*
Theme Name: Twenty Thirteen
Theme URI: http://wordpress.org/themes/twentythirteen
Author: the WordPress team
Author URI: http://wordpress.org/
Description: The 2013 theme for WordPress takes us back to the blog, featuring a full range of post formats, each displayed beautifully in their own unique way. Design details abound, starting with a vibrant color scheme and matching header images, beautiful typography and icons, and a flexible layout that looks great on any device, big or small.
Version: 1.0
License: GNU General Public License v2 or later
License URI: http://www.gnu.org/licenses/gpl-2.0.html
*/

Just replace all the desired fields that is change your theme name, theme URI, author name, author URI, description and theme version.
(Example: – Theme Name: Twenty Thirteen to Theme Name: Your custom name |
Author: the WordPress team to Author: your name)
Other than renaming, if you wish to hide the entire theme details then you can simple remove those comment lines from your CSS. When done save it and activate your new theme, that's it! You have completely changed your wordpress theme name and now you are using your own customized wordpress theme. When someone is looking for your theme details then they will just get the information that you have entered in your CSS file.
Hope this post helped you on how to change wordpress theme name. Please share it and make your comments below.