Home
»
Money Making
» Easily put / embed Amazon affiliate links in Facebook and Twitter
Easily put / embed Amazon affiliate links in Facebook and Twitter
Posted in Money Making By Sureyea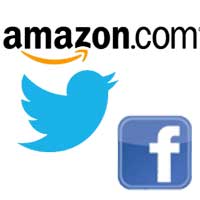 Making your very first penny just after creating an affiliate account in Amazon is some kind of real excitement.  You can achieve this easily if you are well focused and dedicated in affiliate marketing. Only thing is that you have to experiment various types of marketing strategy that works for you. Some people get success through blogging, some promote affiliate links in forums and some get success from social networks. Making money by promoting affiliate links in social networks works pretty well, especially if you have a large social base.
To help affiliates, Amazon offers various promotional tools. To learn more about Amazon affiliates you can check out our beginners guide to Amazon affiliate program. Also we have posted about creating affiliate links in Amazon and that is not so long, just two posts back. What we failed to mention is about embedding Amazon affiliate links in Facebook and Twitter. Here we will see how to put or embed Amazon affiliate links in Facebook and Twitter easily.
Embed Amazon affiliate links in Facebook and Twitter
Step 1: Go to Amazon associates page and login to your affiliate account.
Step 2: Now search for a product or browse the product by categories. You can alternatively use "product links" in "links and banners" tab to easily bring up the merchandise that you are searching for.
Step 3: Next click on the product link which will take you to the main product page. The main product page is what people see when they click on your affiliate link.
Step 4: Now at the top of the screen you will see an option named share. Just drop down and choose whether to embed the product in Facebook or Twitter.
Step 5: After choosing you will see a screen pops out where you have to login to your social account. If it is Twitter, then just tweet it; if it is Facebook then choose whether to share on your timeline, friends timeline, on a group or on a page you manage. Finally add a comment describing the product and share the link.
That's it; start earning money for every single purchase that you make using that affiliate link. With Facebook and Twitter you can reach and promote the products to wider audience quickly and easily. Thanks to Amazon for this feature where one can put / embed Amazon affiliate links on Facebook and Twitter in seconds.