How to submit and claim your website in Alexa – Alexa site submit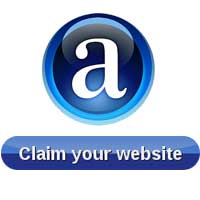 If you are a webmaster then you must know certain things about your website. In order to take you site to the next level you must keep up with the latest trends and that can be attained only after several analysis. By analyzing the traffic data and understanding your site visitors you will come to know what works best and what doesn't works. The two main factors that people use to determine the popularity of a website is Google page rank and Alexa rank. So what they are? How they measure a site? We have discussed all such question previously. Here we will see about claiming a website in Alexa.
Alexa is an authentic web information company that provides web traffic data. Wikipedia states that, Alexa receives 8.5 million people every month and it provides global ranks, traffic data and other site metrics for more than 30 million websites. Other than that it also shows rank based on country, popular search queries, bounce rate, upstream sites, page views, number of backlinks etc. These data are very useful to analyze your website and with that information you can quite compare your website with competitors.
Alexa by using its algorithm analyzes the traffic data and ranks each and every domain accordingly, so what is the use of claiming a website. Claiming ownership of your domain is a good idea because you can add more details about your website in Alexa. Also Alexa has advanced tools in various packages that help you to improve your SEO and site traffic. Let's see how to submit and claim your website or blog in Alexa.
Submit and claim your website in Alexa
First go to Alexa.com and click on "create an account" at the top right corner. You can either register using your email account or you can login using your Facebook account. If you go on with email registration then verify it, choose password and then you will be redirected to this page.
Alexa offers you various features with different plans and pricing which is a best value for sites that receive huge traffic. But as a starter I would suggest you can go on with a free account. Click on free account and enter your website URL. You can add any domain that you own (eg: yoursite.com or yoursite.blogspot.com or yoursite.wordpress.com) and all you need to do is verify that domain.
Related: How to verify Technorati claim token
Claim your website in Alexa
Enter your website URL, click on continue and then you will be asked to claim your website. Similar to Google and Bing verification, Alexa provides you two options to claim your website. One is by file upload and another one is Meta tag verification. We have covered Meta tag verification for Google, Bing and Alexa and that is for wordpress users. If you are a BlogSpot user then you can verify this article (Verify Blogger on Pinterest) where we have mentioned about Meta tag verification in Blogger.
Recap: You will be given a Meta verification ID like this <meta name="alexaVerifyID" content="lu-zfssdfsdgsg3444tUf4aic" />. Just copy that and paste it below your website's <head> tag.
Hope you have finished the verification process and when done you will see a page like this.
You can add your site title, site description, country details and your contact information (not mandatory) for public. You will also notice some hidden features like adding site logo and link titles which is only for pro users. When everything is done click on save and continue. You will now see a success message on claiming your website.
Related: Submit your site to Google, Bing and Yahoo
Now go to Alexa.com >> site info and enter your domain name where you will see a message next to your website name that says "This site is claimed". From now your website on Alexa looks complete and a bit professional than before. Also note that with a single account in Alexa you can claim as many websites you have.
Hope this post helped you to submit and claim your website in Alexa. Please share it. What do you think about Alexa? How long are you using this site? Please let us know by comments.