How to verify Blogger blog on Pinterest – Verify your blog on Pinterest
Posted in How to By Sureyea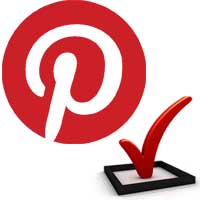 Some social media report shows that Pinterest refers more traffic to a blog than Facebook, Twitter, Google plus or LinkedIn. Pinterest is a visual discovery tool where people gather ideas from others who create and share ideas (pins and boards). Community of people gets connected in same similar interests, who create pins, share pins and follow other people posts.
Pinterest helps you to discover inspirational stuff and help other people to discover your stuff. So as a Blogger you must have a profile and stay engaged in Pinterest. Also to get more referral traffic to your blog, you must have a well optimized Pinterest profile. Do you have an account in Pinterest; if yes, then have you verified your blog on Pinterest? Here we will see how to verify Blogger blog on Pinterest.
Verifying your Blogger blog in Pinterest is very simple and when verified, you will see a fine check mark next to your blog URL (backlink). Most of the websites including Pinterest introduced website verification process in order to handle the web spam. You have to prove that you are the owner of your blog or website and by verifying you are increasing your profile credibility. With that little check mark people will also make sure that they are following the right profile.
How to verify Blogger blog on Pinterest
Sites that have access to server can verify their Pinterest account by uploading a HTML file. But in Blogger since you don't have access to server you cannot upload or download files. Alternative to file upload, Pinterest offers Meta tag verification which you can make use to verify your Blogger blog. Here is how you do it.
Step 1: Hope you have a Pinterest account, if not then go and create one first. Login to your Pinterest account and drop down your profile picture at the top right corner.
Step 2: Click on settings >> profile, edit profile or you can click on the small pencil icon that you see right beneath your profile information.
Step 3: Now you will see a screen to edit your profile. At the bottom in website field enter your blog URL and click on verify website.
Step 4: Next choose "verify with a meta tag" option and you will be see a Meta tag like this. Just copy that.
<meta name="p:domain_verify" content="ac92e13fde9cdd869c4d2d663362c272″/>
Step 5: Now login to your Blogger account and choose your blog
Step 6: In your blog dashboard navigate to template area and then click on edit HTML.
Step 7: Now you will see a page full of coding's. Just press CTRL + F and search for <head> tag. Now add the Pinterest Meta tag below the <head> tag like you see in the image below and save template.
Step 8: That's it! Head back to Pinterest, click on complete verification and you will now see a small check box next to your blog URL.
Hope this article helped you to verify your Pinterest profile. Please share it and make your comments below.