How to Nofollow all external links in wordpress – Add rel=nofollow tag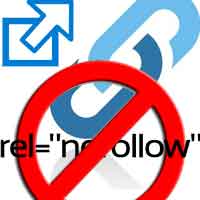 People usually add nofollow to external links in order to maintain their page strength (page quality). Attribute rel=nofollow is just like a guard sitting in front of the gate. The guard suggests not to pass any value to the other side, when the Google bot is about to enter the gate. Many SEO communities and forums out there are making comprehensive talk on nofollow tag. Even at Blog Time Now we once made a post and went deep in to these dofollow and nofollow links. Here in this article we will see how to nofollow all external links in wordpress.
You can add nofollow to external links such as affiliate links, comment links, paid links and other links that you really don't wish to pass value thorough. By default all wordpress comment links are nofollow. You can block all your affiliate links to search engines by cloaking it (Cloaking affiliate links). The only thing you have to take note is the external links that you add in each page and post. WordPress currently has the option to make links open in a new window, but there is no option to make links nofollow. From your post HTML editor you have to make links nofollow manually like this.
<a href=​"http:​/​/​externalsite.com" rel=​"nofollow" target=​"_blank">​No Follow external link​</a>​
Do you have any idea of making all external links nofollow automatically that is even to your previously published posts? It's simple; you can easily add nofollow to all external links by using a plugin.
How to nofollow all external links in wordpress
First of all install and activate wp external links plugin. After activation you will see an option external links next below to settings. In wp external links you will have many option to deal with external links. You can make all external links open in a same window or new window or top most frame. Also you can check this setting applied individually to post contents, comments and widget links. With this plugin you can set an icon style to all your external links and you will additionally have SEO settings.
There are several plugin that simply adds nofollow to all external links, but wp external links plugin stands out from the rest. The good part is that you can add exception to several external links. Just enter the URL or text relating the link and this plugin will automatically ignore all those links.
Follow Nofollow control plugin
You can also try follow nofollow control plugin similar to the wp external links. With this plugin you can simply add do follow or no follow to all external links and you can manage exceptions.
Hope this post helped you on how to add nofollow to all external links in wordpress. Share it and leave your comments below.