How to add subscription link to YouTube videos – Add subscribe button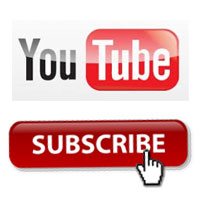 YouTube is not just a place for hosting videos; it is a community where you can meet and engage with people, business of same niche. With YouTube you can effectively build both your online and offline business. Stay long, gain more exposure and build a massive audience. Additional to your promotional efforts YouTube offers various tools to grow your audience. Publish remarkable and valuable videos consistently and your fans will stay in touch with you by subscribing to your channel.
Related: Importance of online video marketing
A person who subscribed to your channel will receive notification for every updates that you make in YouTube. In each and every video YouTube adds a subscription button next to your user name. Also YouTube adds a large subscribe button in each channel page. People who are willing to follow you can subscribe to your channel using the subscribe button. Other than that what if you wish to add a subscription button inside your videos? Adding a message saying "Subscribe to our channel" or adding a subscription button inside videos will gain you more subscribers. Here we will see how to add subscription link to YouTube videos.
With YouTube annotation you can add a message saying "Click here to subscribe" and with YouTube branding you can add a subscribe button into your YouTube videos. We have covered both the topics in detail, check out.
How to add subscription link to YouTube videos
Login to your YouTube account and go to video manager.
Now choose a video in which you wish to add a subscription link. Drop down edit and click on annotations which will take you to the video page.
Click on add annotations and choose the annotation type.
Now add a note saying "click here to subscribe", then drag and place the annotation anywhere inside the video.
Choose font size, font color, annotation color and then finally set the start and end time for the annotation to appear.
Next click on link, choose subscribe, enter your YouTube username, select whether to open the link in new tab or not and then publish your video. That's it.
How to add subscribe button to YouTube videos
Go to video manager and then choose channel settings >> In Video Programming.
Now click on add a watermark, choose an image to upload (YouTube subscribe buttons are readily available in Google images).
Next select your display time and then save watermark.
From now on your viewers will have a clear eye on that subscription button / link and with one click they will become your followers.