How to rename Blogger labels – Changing existing label names in Blogger
Posted in Blogging, How to By Sureyea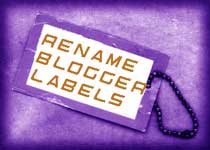 Tagging each and every post will make your site visitors to easily navigate and moreover it helps them to discover related posts within your site. To better organize your site content we always suggest you to label your blog posts. So for beginners we once made a post on how to use Blogger labels which you can go through. At one point you will realize to properly categorize your blog posts and that makes you to change the names of several existing labels in your blog. Here in this post we will see how to rename Blogger labels in a proper way.
In Blogger you can easily manage all your labels from posts area where you can add or remove labels. But currently Blogger has no such feature as renaming blog labels. The only option you have is by deleting the existing labels and adding a new one. There are two ways to implement this; one is by editing labels in each and every post which is time consuming. The other one is renaming labels by bulk action method that is deleting existing labels in all posts and assigning a new label to all those post. So here is how you do it.
Let's say you are blogging about health and cookery and you have labeled Mango, Blackberry and Apple for several posts. Later on you decided to rename all the three labels into one and you wish to name that as recipes.
How to rename Blogger labels
First thing you have to do is explore all the posts filled under specific label. Then you have to add new labels to all those posts and remove existing ones.
In your blog dashboard go to posts >> and you will see all labels drop down list box at the top right corner. Just drop down and select the label that you wish to change. As of example we are selecting Apple which shows all the posts labeled with Apple.
Now you can select the bulk action check box or you can manually tick selected posts. You might end up in errors, so make sure that you are not selecting 50 posts at a time. After selecting the posts, drop down the label option and assign all the selected posts to a new label as you see in the image below.
You have added a new label to all those posts and now you have to delete all the existing labels. To delete, just drop down the label option and select the label which removes label from all selected posts.
In case if you try to access the deleted labels, then it simply displays 404 error page that is it shows "No posts with this label name". Also note that adding and removing labels in your blog posts are only for your visitors and that does not affect your SEO campaign.
Hope this post guided you on how to rename Blogger labels. Share this post and subscribe to our blog feeds.