How to add / integrate Disqus on Blogger blog – Disqus comment system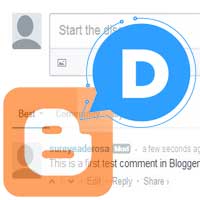 Your blog must possess and hold two important elements and that is mainly to enhance the blog experience to your blog readers. One main thing is the post date on every blog posts and other is the commenting system below each blog posts. Commenting system in blog posts is a great way to communicate and interact with your blog commenters regarding that blog topic. Also your readers will gain some additional knowledge from your blog comments section. Here we will see how to add Disqus on Blogger that is we will see how to integrate Disqus comment system in Blogger blogs.
Related: How to create contact form for Blogger
By default Blogger has got a comment system which is quite boring and you can't expect much features with it. In Blogger comment system one need to login using their open ID in order to post a comment which is a default setting and that is quite good to stay away from spam comments. Anyways the default comment system does not blend with your blog template.
Disqus, a third party comment system which has loads of features and you will have total control to your blog comments. So why not give Disqus a try!
Why Disqus?
Disqus is free and one of the most popular comment management system used by most Bloggers. Integrating Disqus in your blog is too simple and moreover it's mobile and SEO friendly. Also you don't have to worry about existing comments in your blog which you can import from Disqus.
Disqus Features
User can post comment, vote comment, flag comment and share comments to social networks. Also they can subscribe to comments.
You will get notification to your email for each new comment.
A commenter can attach media files (image, video) in their comments.
You can see your site's comment activity in a graph.
You can set custom avatar for comments for those who don't actually display their avatar.
Commenter can post their comment as guest or they can post using their open ID.
Disqus adds real time threaded comments and shows a related discussion below comments which reduces your bounce rate.
You can make money from Disqus by showing recommendations just like nRelate related posts.
So are you ready to integrate Disqus comment system in your Blogger blog?
How to add / integrate Disqus on Blogger blog
Visit Disqus registration page and enter your username, email, and password and then click next. On the next screen enter your site name, pick category and click finish registration.
Now you will be asked to choose your blog platform. Click on Blogger and don't forget to verify your email.
After choosing your platform you will see two options that is integrating Disqus in your blog and importing comments from your blog.
Importing your blog comments may take time and so first we will add Disqus in to your blog.
Click "add to my Blogger site" and at the next screen select your Blogger blog, give a title and click add widget.
Yes! You are done adding Disqus in to your Blogger blog. Go check your blog post.
Now you won't see your existing blog comments and to see it you have to import from Disqus.
How to import existing Blogger comments in to Disqus
Now go back to Disqus setup page and click on Tools >> import. At the next screen click import comments from Blogger.
Now Google ask you for an permission, just click grant access and at the next screen choose your blog and click import.
Now at the top of the Disqus dashboard you will see a message that says your import has been successfully uploaded and queued.
Your import may take up to 24 hours and in a mean while you can change and configure the Disqus comment settings.
Conclusion
If you are willing to have a third party comment system in your blog then Disqus is the right choice where you will get lots of features. Give it a try and share your thoughts by commenting below.
Hope this post helped you on how to add / integrate Disqus on Blogger blog. Please share it and to get more updates subscribe to our blog RSS feeds.