How to remove unused images in wordpress – Clean up uploads folder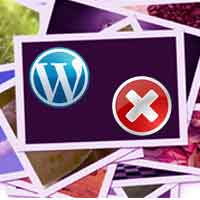 Do you think that your job is over after building an elegant wordpress site for your clients? Obviously not! WordPress sites are easier to manage and perhaps you will handle the rest of the site to your clients in order to fill out pages. Well your clients have some idea about using wordpress, but what they lack is adequate server knowledge. They never mind terms like server bandwidth, server space, RAM, shared host, VPS host etc and etc. They finally end up filling server space, or by chance without their knowledge they even upload some malicious programs to the server. You can handle over the site to your clients, but always keep the sites control panel under your control.
Recently one of our client dumped as many images in to his wordpress site and most of them were unused. Media files eat up too much space and so we suggest not to upload media files in your server. Rather you can prefer embedding media files (audio & video) from third party sites. Images that are not optimized will eat up too much space and it slows down your site. So once we made a post on setting maximum image upload size in wordpress. Here in this post we will see how to remove unused images in wordpress.
Each time when you create a new post or page, you will insert an image to your media library. All those images are not removed automatically when you delete a post or page. You can manually remove all those unused images from your media library.
Images that you upload via wordpress dashboard are stored under wp-content >> uploads. Navigate to your wordpress uploads folder using FTP and you can see folders in month wise and this is where all your images are stacked. You can browse through the folders and manually delete unused images, but finding unused images and deleting it one by one manually consumes more time. So here we will see a plugin that find outs unused images in your wordpress site.
How to remove unused images in wordpress
First thing you have to do is install and activate clean up images plugin. After activation you will see an option "cleanup images in media library" under settings tab. There are plugins like upload janitor and delete not used images. But we personally find out that cleanup images plugin does a good job in finding and removing unused images.
With this plugin you can easily scan all unused images in media library. Also you can set number of unused images to be viewed in each page and it additionally shows the thumbnail images. Click on scan for unused images in media library and you will see the list of all your used and unused images.
You can easily preview the images by just hovering the mouse over the link. Select all unused images and delete it. Also you can particularly select unused child images and delete it. Hopefully you have cleared all the unused images from your wordpress site and if you want you can now deactivate the plugin.
Hope this post helped you on how to remove unused images in wordpress.