Home
»
Tips & Tricks
» How to transfer / merge Google plus account to another account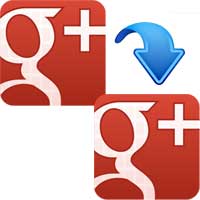 Got two Google accounts and want to merge or transfer your Google plus circles from one account to another account. We recently discussed about downloading your data from Google using Google Takeout. Here in this article we will see how to transfer or merge Google plus account to another account.
In Google takeout there is a feature where you can transfer or merge Google plus circles and connections. This includes transferring your Google plus names, circles, settings, and pages that you blocked or ignored.
Before you move on to merge your Google plus accounts you must know these following things.
About Google plus transfers
Choose you source profile and destination profile that is after the transfer your Google plus source profile will be replaced with destination profile. After you initiate the transfer it will usually take 7 days to start the transfer. During the 7 days waiting period that is before the transfer begins you can still cancel it from your Google plus account. The transfer will take 48 hours and during that time your source profile and destination profile will have limited access only.
Note that you won't able to request a transfer again with both source and destination accounts for 6 months. Also you cannot merge or transfer Google + circles and connection from a profile to page.
After the transfer
There are few things you have to note which will take place after the transfer. After the transfer all your connections and circles will be copied from your source profile and transferred to destination profile. Note that your profile info, posts, comments, authorship details and pages will exist only in your source profile and not transferred to destination account. Peoples with same names in your destination account are merged.
Related: Google Authorship Markup for website
Are you ready? Then let's start the transfer
How to transfer / merge Google plus account to another account
First we suggest you to logout if you are logged in with two are more accounts at the same time.
Related: How to access multiple Gmail accounts in one browser
Now login to Google Takeout with source account and you can see a list of Google products and services.
Now click create an archive and deselect all products. Next to Google plus circles you will see a small file icon, click to execute the transfer. Now you will be asked to login again using your source account.
You will now see a screen like this. Just enter the destination account details and login with that account.
Confirm that all your source and destination information is right and then click transfer at the bottom of the screen to start transfer.
You are done! Just wait for 7 days and your transfer will begin. To cancel the transfer, login to either of your Google plus account and click cancel transfer below.
Also note that your source and destination account must have same name and you cannot cancel transfer from mobile app.
Read more about Google plus transfer here.
Hope this helped you on how to transfer / merge Google plus account to another account. Subscribe to our RSS feeds to get more update.