How to set master password in Mozilla Firefox – Secure saved passwords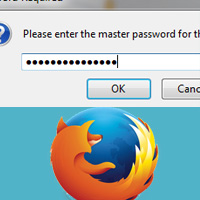 Are you concerned about passwords and other login details that you have stored in your browser? Whatever it may be whether it's your bank details, email IDs or Social site login details; all your usernames and passwords should be safe and secure. To secure yourself from hackers you have to consider several things when surfing the World Wide Web. You should not use or store passwords of highly secure web portals on public computers; you should always maintain strong passwords, you should never share your personal or laptop computers with others and so on. But anyhow when the password goes strong remembering it will be really annoying. We have previously discussed about saving passwords in browsers like Chrome, Firefox and IE. Here we will see how to set master password in Mozilla Firefox that is to secure all your saved passwords.
There is still a debate goes on which web browser is safe and secure; personally I myself consider Firefox is good at both privacy and security. Just like other web browsers Firefox saves your login details for feature purpose and that is only if you grant permission. The next time when you revisit the website you don't have to type in your login details which allow you to authenticate quickly.  But the fact is unless you set the master password, Firefox lets anyone to utilize and view your saved passwords. If you share computers or if you think that your passwords stored are at high risk then it's highly recommended to setup a master password.
How to setup Master password in Mozilla Firefox
Firefox by default does not use the master password option, before you can use it you have to define it.
Step 1: Open your Firefox web browser and click on Firefox menu at the top left corner, navigate to options and then click on options.
Step 2: Now move on to security tab in options window.
Step 3: Next in there you will see an option called "use a master password". Just check that and enter your master password twice. Also you can see the password quality meter, to protect the information make sure that you have set strong password.
Step 4: When done click on OK and you will see a message that says "master password successfully changed", click on ok again. That's it!
Now clear your browser cache and now open any site that Firefox has previously stored your usernames and passwords. Before it fills your login details on that particular site you will see a message like this where you have to enter your master password.
From now on nobody can use or view your usernames and passwords in Firefox unless they know your master password.  Also you can remove or change your master password in feature by going to options >> security tab but to do so you have enter the current password.
If you like to add some additional features to the built in master password you can try the master password add-on for Firefox. After you install this add-on you will be asked to restart your web browser. When done you will see a small lock icon at your address bar, just click on that and you will get more features like auto logout, auto lock etc.
Hope this post helped you to set master password in Mozilla Firefox. Do you think that your passwords are safe now, also which web browser you think to be best in terms of privacy and security? Please let us know in comments below.