How to export all your email subscribers list from Feedburner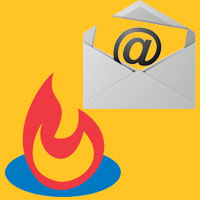 Here we manage all our RSS feeds using Feedburner and that's because it provides more features for both us and our subscribers. How about you, do you use Feedburner? Other than Feedburner there are services like mail chimp and AWeber which offers more extra features. Anyhow if you plan to move from Feedburner to some other service then it's essential to back up and export all email subscribers list from Feedburner. In the past we have covered a post about how to find out Feedburner subscribers count for any feed using that Chicklet trick. Now here we will see how to export all your Feedburner email subscribers in a CSV file.
Go to Feedburner.Google.com, login to your Feedburner account and you will see all your feeds that you manage. Now open the Feed that you wish to export your email subscribers from. You will be then taken to Feedburner dashboard where you will see all your feed stats, just go to publicize tab and then click on Email subscriptions from your left hand side in service area.
Next you will arrive to subscription management page, just scroll to the bottom of the page and then click on view subscriber's details.
You can now see your entire email subscribers list that is their email ID's, subscription date and their subscription status. Just above to this list you can see export CSV option. Click on the CSV link and then save your entire Feedburner email subscribers list to your computer.
All done! You can any time import that downloaded list to email marketing services where you plan to move and they will provide you all the instructions to import that list.
For AWeber here is how to import email subscribers and for Mail Chimp here is the instructions. Hope that helps.