URL shortener – List of free URL shortener services to shorten links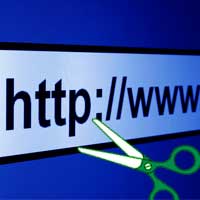 URL – Uniform Resource Locator is the address used to find out files, pages, programs, documents, etc on the World Wide Web. Each and every webpage has its own unique address which can be seen in your browser search bar, just like the file path in your computer. This is just a basic concept and even a normal internet user knows this. So what is URL shortener and what is the use of shortening URLs, any idea? If it's really worth then have a look at some list of free URL shortener services that we listed below.
What is a URL shortener?
In short, URL shortener is a service is used to make actual and long web address (URL) shorter. It's a kind of redirection, in which the shortened URL gets redirected to the lengthy original URL. For example here this URL is a shortened one which is redirected to this URL which is pretty lengthy.
Some other common names that are used to describe URL shorteners are URL redirection, URL generator, URL shrinker and URL forward.
Use of shortening URLs
Other than Bloggers and webmasters, URL shorteners are greatly useful for people who engage in internet conversations, chats, forums etc. The popularity of Shortening URLs has skyrocketed when sites like Twitter has the limit of 140 characters per tweet. Tweeting with original lengthy URLs takes the entire character limit and you don't have enough space to leave a message. Really a tweet will be annoying if it contains only URL and without a message in it.
Other than that shortened URLs are easily manageable, you can track no of clicks, easy for sharing. Moreover shortened URLs encourage users with more clicks than normal lengthy URL. So here comes the list of free URL shortener services to shorten your links.
List of free URL shortener services
Tiny URL – Tiny URL is one of the most popular and oldest URL shortener service. By using this service you can hide your affiliate links and another feature is that you can create your custom short URL.
Bitly – Bitly is the most used and popular URL shrinker. You can shorten, shrink and redirect URLs. Bitly keeps all the details and you can track the number of clicks made on that URL, which will be useful for affiliates.
Goo.gl – Goo.gl is a popular URL shortener service from Google. Goo.gl has an easy to use interface. You can create and track short URLs with your Google account. Your Feedburner feed uses Goog.gl URL shortener when auto posting links to Twitter.
Fur.ly – Fur.ly is another most popular URL shortener service. One feature that makes Fur.ly stand out is that you can shorten multiple URLs in to one. This will be useful when you wish to share multiple URLs in a single tweet.
Bit.do – Bit.do is a free and powerful URL shortener service. Your shortened links will never expire. You can track all your URLs with real time statistics, you can track clicks with user IP, date and hour.
Tiny.cc – Tiny.cc is a reliable and free URL shortener service. Just enter your length URL and create a cute looking tiny URL. With Tiny.cc you can shrink URLs, share those URLs, track URLs and can get QR code for your URL.
Ad.fly – Ad.fly is yet popular and another widely used URL shortener service. Ad.fly is the URL shortener service that pays you for shortening links. Ads will be displayed on each URL that is created in Ad.fly.
Cli.gs – Cli.gs is yet another URL shortener service where you can create short URLs (with custom links) and share it to twitter. It is bit uneasy to manage your URLs when compared to the above list. Cli.gs has a bookmarklet for your browser in which you can shorten URL quickly the next time.
Ow.ly – Ow.ly is another popular link shrinker from Hoot Suite which is a popular social media management tool. In Ow.ly You can create an account using your Facebook account and manage all your links.
Mcaf.ee – Mcaf.ee is service by Intel where you can shorten you lengthy URLs, share it and manage it.
Su.pr – A best URL shortener, shrinker service from StumbleUpon. Enter your long URL, shrink URL , share URL and track URL.
Po.st – Po.st is a leading URL shortener service very similar to ad.fly. Enter your links, shrink it and create your vanity URLs and share it. You can particularly see statistics of a particular URL and also you can get statistics for all your URLs.
All the above URL shortener service is popular, trustworthy and most used. Now we will see some other URL shorteners.
[col grid="3-1 first"]
http://adcrun.ch/
http://ity.im/
https://reducelnk.com/
http://is.gd/
http://twitthis.com/
[/col][col grid="3-1″]
http://cutt.us/
http://yourls.org/
http://shrinkurl.us/
http://v.gd/
http://beam.to/
[/col][col grid="3-1″]
http://snipurl.com/
http://to.ly/
http://wowurl.com/
http://www.untiny.me/
http://tiny.tw/
[/col]
Hope this list of free URL shorteners is helpful for you. Share it and if you know any other URL shortener services that is worth sharing, then please let us know by comments.